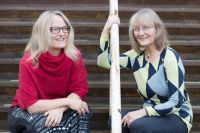 Cindy and Danita Sepp, Program Directors
Hello Parents and Campers,
We made some great memories last summer, with our first time running camps every week through both July and August. We will do that again, and are set to add some more great memories to the stack in 2019!
At Block 8, we strive to give our campers a well rounded experience, combining physical, artistic, musical and lifeskill development. The focus is on fun, with a highly active program always planned. We provide our campers with opportunities to explore nature as well as indoor activities such as parkour, gymnastics, and chef school. Children are encouraged to form lasting bonds with their fellow campers and instructors. And I am available if you want to discuss your child's successes or challenges, or if you want to set up specific plans to accommodate your child.
We operate as a registered daycare, so families with support or subsidies can apply them to our camps.
Looking forward to a stellar summer of 2019!
Cindy and Danita