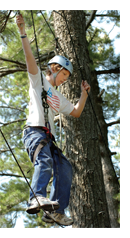 Searching for a Great Camp
Choose a type of camp.
The choices in the type of camp go far beyond day vs. overnight. Residential camps offer the quintessential camp experience – think canoes, campfires, cabins, and mess halls, and a blend a variety of sports, artistic, and social activities. Specialized camps provide a more immersive opportunity to practice a certain sport, art, educational field, or language. Fitness camps instill valuable lifestyle habits, faith-based camps provide spiritual guidance in a casual environment, and special needs camps are designed to accommodate unique children and their necessities. Family camps are also becoming a popular option to strengthen family bonds.


Create a wish list.
Parents and children should discuss their camp options together to come up with a wish list for priority location, activities and amenities. Is the proximity of a camp important, or does your child have their heart set on portage trips? Is your child keen on sports, horseback riding, drama or rock climbing? Are you looking for a wilderness experience? As part of this list, families can determine other factors, such as budget and safety. An Internet search should follow, which will provide a number of potential camps. A useful tool is the search engine found on www.camps.ca, which allows users to select different options to easily target their search. Another good one is the Ontario Camping Association's website.


Talk to the camps.
A crucial step is talking to camp directors about their specific philosophies, programs, and policies. Calling or emailing each potential camp and asking for an information package will work, but what's even more effective is to speak in person at one of the various camp fairs that happen around the province this time of year, such as the Our Kids Summer Camp Expo. (www.campexpo.ca)

Many camps have scheduled visitors' days. Consider visiting the year before you want your child to attend or early in the summer before your child's session. You can even ask the camp to arrange a special visit to tour the facility. Some out-of-town camps will hold information meetings in various communities to give families a chance to meet camp staff and learn more about their unique environment. You can find details about upcoming opportunities on the event calendar at www.ourkids.net
Preparing the First-Timer
Anticipating a new experience can make first-time campers and their parents a bit anxious. Here are some tips to prepare for the adventure and make the most of it:
Discuss what to expect from camp (such as activities, routines and schedules).
Talk about the fun and exciting things they are likely to experience.
Mention the new friends they are likely to make.
Help them to have realistic expectations. Explain that there will be rules to follow, and there will be ups and downs.
Prepare first-time sleepover campers for bedtime away from home. Discuss things that might help them to fall asleep, such as reading a favourite book.
Encourage independence by explaining how to care for their belongings. Do they know what to do with dirty laundry or a wet bathing suit?
Tips for the First-Time Camp Parent
Ask about visiting policies ahead of time. Some camps have a scheduled visiting day, others don't.
Camps have varying procedures about making telephone calls—when a child can call home, when a parent can call and how messages will be relayed. Find out ahead of time and share the information with your child.
Do not share feelings of anxiety or doubt with your child.
You have thoughtfully chosen a camp, so now have confidence in your decision.
Remember that going to camp is a wonderful experience.
Share the joy by talking about the adventure ahead.
Share the joy by talking about the adventure ahead.
Length of Stay
If only summer camp could last forever. More than one camper has been known to wistfully say so as their session came to an end. How long should a child spend at summer camp?
The answer depends on many factors:
How old is your child?
Is your child a first-time camper or a seasoned veteran?
Is your child looking to be immersed in a particular specialty or are they interested in exposure to a broad range of experiences?
What are your family's overall plans for the summer?
What is your family's budget?
A younger child may do well with just a week. Some residential camps even have sessions for part of the week for their youngest campers. A seasoned camper may want to spend a month or even the whole summer at their favourite camp.
Day campers might want to experience a series of one- or two-week camps over the course of the summer, or may opt for an extended session in a specialized camp program.