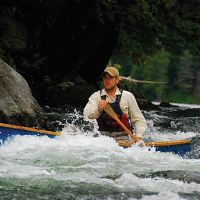 Nick Georgiade, Owner/Director
I fell in love with Temagami in 1991 as a 12-year-old camper. I was mesmerized by the natural beauty, the crystal clear water, and the rugged granite of the Canadian Shield. I was enthralled with being on "trip." The distractions of modern life were stripped away. The true character of traveling companions shone through and real, lasting friendships were made.
The experience as a camper was powerful. It inspired me to earn Masters degrees in Economics and Outdoor Recreation, to teach youth in the classroom and field, and to take on the role of camp Director.
Our passion to share the experience drives us to offer programs for campers that will help them grow as individuals and become confident, thoughtful, principled, kind, and adventurous.

Please join us!
Nick Georgiade, Director