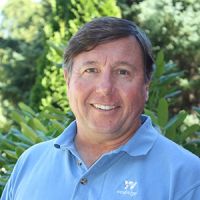 Norbert Auger, Director
Thank you for considering Windridge Tennis & Sports Camps for your summer home.
Windridge offers "majors" in tennis, soccer and horseback riding allowing campers to focus on the training they need. In addition we offer a wide variety of other elective activities, exceptional evening activities and special events to create a well-rounded experience for each camper.
Our philosophy is centered on the belief that if children are encouraged to do well in areas that they enjoy, they will show positive personality growth. By providing a wide range of instruction in sports and an opportunity for supervised group living, we are able to give campers the fundamentals they need for fulfilling their individual potentials. Within the Windridge community, youngsters discover the meaning of trust and respect for others, and are able to realize a confidence in themselves as well as a good feeling toward those around them.
I have had the pleasure of seeing my four boys grow up at camp. Camp has helped shaped their lives, and given them skills and memories that will last a lifetime. Given the opportunity, I'm sure Windridge will be that special place for your kids as well.
Please do not hesitate to reach out to me with further questions. I would love to see you at Windridge this summer!
Warm regards,
Norbert Auger - Director