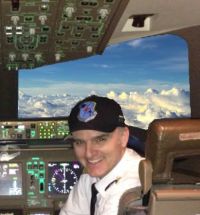 Aaron Murphy, Director of the AIC and Flight Simulator Operations Training
Hello and thank-you for visiting the Aviation Immersion C.A.M.P. profile on the ourkids.net!
I have had some of my most incredible life experiences in airplanes: from the lofty highs of euphoria to the stone-cold, iron butterflies-in-my-gut of absolute terror, but usually everything in between. Each and every flight is a testament to human ingenuity, perseverance and good old fashioned courage. On December 17, 1903, Wilbur and Orville Wright were the first to crack the aerodynamic and engineering codes for the first powered flight of the Wright Flyer at about 48 KPH, and just a mere 44 years later on October 14, 1947, Captain Charles Elwood Yeager piloted his Bell X-1 named "Glamorous Glennis" to the eyeball watering speed of Mach 1.07. (Elwood. Love that name!) Yeager would go into the history books with the incredible distinction of being the first human to break the sound barrier. Since then, humanity has been to the moon a few times, had many super-sonic joy rides in the majestic Concorde at Mach 2+ and went an absolutely eyeball flattening Mach 6.7 in the North American X-15! Yikes! Now we even have folks living on an extra-terrestrial outpost called the International Space Station, orbiting the earth at approximately Mach 22! Ludicrous speed indeed! The ISS is the first of several inter-planetary stepping stones to our next destination: Mars.
My vision for the AIC is to give students of all ages a place where they can explore the incredibly challenging, demanding and fascinating world of aviation and all of its supporting subjects. Who knows? Some AIC participants just might become airline pilots and maybe, just maybe, a few will go to Mars.
It was a sunny and warm 12th of September in 1962 before a crowd of 40,000 at the Rice University Football Stadium, when John F Kennedy spoke some of his most powerful and inspiring words of his presidency in his famous speech to persuade America to support the Apollo program and land a man on the moon:
"...We choose to go to the Moon...we choose to go to the Moon in this decade and do the other things, not because they are easy, but because they are hard; because that goal will serve to organize and measure the best of our energies and skills, because that challenge is one that we are willing to accept, one we are unwilling to postpone, and one we intend to win, and the others, too..."
We all need to challenge ourselves. Constantly.
"That's one small step for man, one giant leap for Mankind." (Neil Armstrong's famous televised radio transmission on July 20, 1969 as he stepped down off the lunar lander to be the first human to walk on the moon.)
Mission accomplished. Next? Mars!