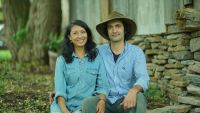 Joaquim and Amor Conde , Farmer and food artisans
It is our intention that through memorable, fun and meaningful activities the children learn how food is produced in a natural, traditional, non-industrialized manner. They discover the joy of food prepared from scratch, nourishing ones health while protecting the environment.
Looking forward to meeting you.
Joaquim and Amor