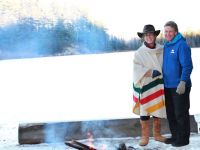 Geoffrey and Jo Ellen Madge Cushing, Director of Operations, Co-Founders
When we were planning our family in the mid-80s, of utmost importance to us were traditional values – integrity, hard work, honesty, and respect for others and for the environment. We shared a profound concern for the protection of wildlife. As young adults we witnessed a society becoming consumed with entitlement with little or no regard for the environment. As parents, we pledged to teach our children about the natural world and to help them understand the interconnectedness of all life forms.

Today, almost three decades later, the extended Earth Studies family remains resolved to promote environmental awareness and initiative. We remain steadfast in our pledge to help others create innovative solutions for renewable energy, green building, wildlife conservation and sustainability. Earth Studies extends an invitation to anyone interested in joining our vision in raising a universal environmental consciousness committed to preserving our natural resources and protecting wildlife.