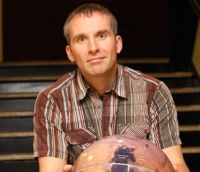 Dr. Gordon Osinski, Director
It is my pleasure to welcome you to Space Explorers Program – the first of its kind in Ontario! Thanks to the Centre for Planetary Science and Exploration (CPSX), Western University has become the epicentre for Space research and university-level teaching in Canada. With faculty and students doing everything from studying distant galaxies to the geology of the Moon, designing rovers and instruments for future missions, as well as ensuring our astronauts remain healthy in space, CPSX does it all!
Our motto here at CPSX is research and training for 21st century explorers and it is our children that are the future scientists, engineers and leaders of tomorrow! As somebody who has been involved in training Canada's two astronauts – Jeremy Hansen and David Saint-Jacques – and as a father of two young children, I am particularly delighted to be able to announce our new and totally revamped Space Camp, where the next generation of 21st century explorers will share our knowledge and passion for space!